Meet Ali Leonard
Email: [email protected]
Academic and Industrial affiliations: Newcastle University, United Utilities, Water Resources West
Title of research project: Multi-scale water resources planning in England and Wales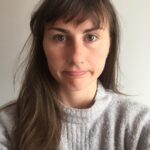 Green Infrastructure can be defined as an interconnected network of greenspace that provides multiple benefits within socio-economic and environmental contexts, it is threatened by climate change and the constrains of the urban landscape around it. The importance of connectivity between Green Infrastructure components and the surrounding landscape in relation to functionality will be considered along with issues such as access. Experiments will provide an assessment of the performance of different vegetative species and their response to drought and
Some parts of the UK are projected to have water deficits by to 65% by 2065. This reflects the fact that, although the UK is known for being wet, rainfall is unevenly distributed, and the most populous regions are also the the driest. Water resources planning needs to ensure a resilient water supply that is able to provide for a growing population under future drought conditions in a way that supports the environment.
In light of the projected deficits, regulators have called on water companies to reduce leakage and encourage demand reduction as well as to invest in new infrastructure such as new reservoirs, desalination, inter-basin transfers, and effluent re-use schemes.
Some of the schemes proposed require collaboration across current planning boundaries. To meet this challenge, five regional groups were established in 2020. For the first time, the regions must devise and align their water resource plans to close the projected national deficit. Ideally the preferred plan represents "best-value" across scales, is robust in the face of future uncertainty, and is transparent and easily understood when communicating with consumers and stakeholders.
However, aligning the higher level, regional plans with zonal and local level planning presents a challenge. Local planning considers a wider set of problems at a more granular level. The differences in aims, objectives, strategies, values, and working practices may lead to tensions between the different scales of decision-making.
This research project will evaluate how multi-scale water resources planning is developing under new regulatory expectations between 2020 and 2023 and explore how decision making methods can help enable the alignment of plans across multiple scales. The project will work in close alignment with Water Resource West and its members throughout to evaluate the approaches being used and develop methods that can be applied in a real world setting.