Email: [email protected]
Academic and Industrial affiliations: Newcastle University and Stantec working in partnership with Northumbrian Water
Title of research project: Promoting High Quality Green Infrastructure and the delivery of Multiple Benefits through Improved Connectivity, Maintenance Regimes and Vegetation Specification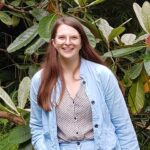 Green Infrastructure can be defined as an interconnected network of greenspace that provides multiple benefits within socio-economic and environmental contexts, it is threatened by climate change and the constrains of the urban landscape around it. The importance of connectivity between Green Infrastructure components and the surrounding landscape in relation to functionality will be considered along with issues such as access. Experiments will provide an assessment of the performance of different vegetative species and their response to drought and flood conditions, allowing for recommendations related to longevity and resilience. Lastly, this research will aim to address the concern surrounding the current structures (or lack thereof) for the management and maintenance of Green Infrastructure incorporated into new and existing developments.
The research will primarily focus on the performance of Green Infrastructure in relation to stormwater management; encompassing Sustainable Drainage Systems (SuDS). The investigation will focus on a local perspective, using case studies from the city of Newcastle-upon-Tyne and the work of Northumbrian Water Limited. Experiments will be carried out at the National Green Infrastructure Facility.